You probably didn't know there were other types of garage doors. That might be why you're on this page: to find out. While we personally love our doors, chances are you are thinking about something else most of the time. That's why it's so exciting to share the different types of garages and doors there are in the world. It's a nerdy, cool thing that we're genuinely excited about.
When people think of garage doors, there's a specific image that arrives in most everyone's mind. More than likely, you're looking at a suburban house with a two car driveway and a large garage door stuck in the middle. While this is, indeed, a good majority of American homes, it's only one of the many types of garage doors there are out there. In order to open up some of your design options, we've compiled this handy list of the types of garage doors there are. This can let you store your car (or whatever else you want to) in style. The varieties out there are magnificent, offering a lot of different choices when you're thinking about your brand new garage.
Sectional Doors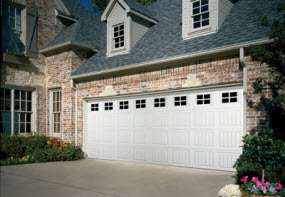 This is the most common garage door in America. When you think of a garage door, chances are you're thinking of this one. The reason it's called sectional is because the door is built of sections (surprise!). When a new garage door installation of a sectional door happens, it is gradually built into the behemoth it becomes. First, the garage door railing is set in place. After that, the first section of door is laid in. This goes on the bottom, then is tested to make sure it rolls smoothly. After that, the rest of the sections are laid on top, then fastened in. The door is then fastened to one of the two types of springs involved and VOILA! A sectional garage door.
Carriage Doors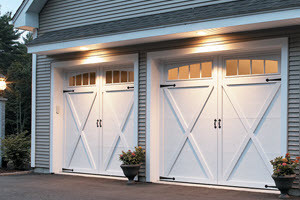 Carriage doors stand in stark contrast from a sectional door. Where sectional doors raise up into the roof of the garage, the carriage door opens in two parts on the sides. Carriage doors are, in fact, two completely separate doors that operate similarly to regular French doors or something similar. It's completely different than "normal" garage doors, but serve the same functionality as a sectional door. The name comes from their original location within carriage houses. These were the predecessor to the modern garage, going all the way back to ancient Greco-Roman times. When carriages were finished being used, they would need to store them somewhere, hence the name. Over the centuries, carriage houses evolved into garages, which became the far more versatile rooms we see today.
Folding Garage Doors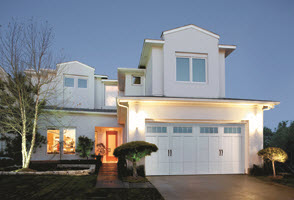 This type of door is a bit of a cross between a sectional and a carriage door. The difference here is that it folds up neatly. Instead of functioning vertically similar to a sectional, the garage doors fold horizontally, working similarly to a carriage door. When the doors open, they fold up and allow vehicles to move smoothly into the garage. The doors themselves can move either into the garage or outwards. It depends on what your preference for convenience is. The doors push outwards, then fold horizontally, conserving space. This is much more convenient than a carriage door, but could also be a pain if it ever needs repair.
Sliding Garage Doors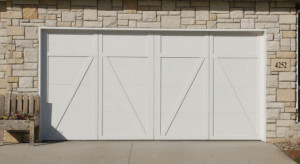 The function of a sliding door is in the name (it slides). This can be found in barns and stables, but is also applicable to garages. The doors are installed in a similar fashion to a sliding glass door. The railing is placed down, the doors are placed in utilizing a wheel system, and the doors are double checked to see if they can roll in and out. This can be convenient when you have to utilize as much space inside as possible. In stables and barns, you make the most of a small enclosure with livestock, hay, feed, and more. Similarly, your garage requirements may necessitate the need for sliding doors. If you need to have a shop, store your vehicle, store extra goods, and have high ceilings to clear, a sliding door could be the perfect thing for you.
Roll-Up Garage Doors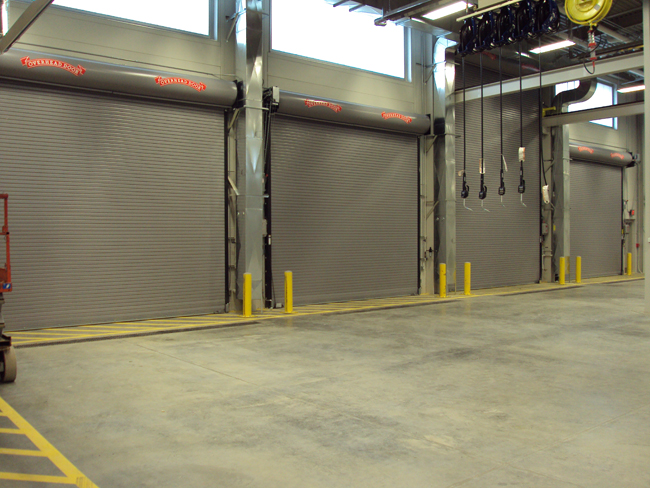 These types of doors roll up into a small container located above it. More than likely, you have seen these types of doors outfitted in industrial or commercial areas. They are heavy duty doors which are easy to stow away. Additionally, they are comprised of sturdy metals, which is necessary when rolling up a door over and over again. In a commercial or industrial setting, damage can happen very, very easily. It's necessary to have the sturdiest materials possible for long lasting durability. One of the key differences here is the size of a roll-up garage door. Very often, the location of these doors are easily accessible, yet out of the way. Because of the highly compartmentalized nature of the roll-up door (think of it as a sectional door but with far more sections), it's an easy space saver. This gives the industrial and commercial sectors more space and less worry.
Up-and-Over Garage Doors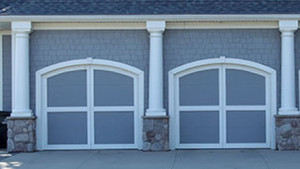 This is a garage door which rolls up, but does not break apart. Instead, the door is taken up into the roof of the garage in one entire piece. It would be similar to taking the front door of your home and raising it into the ceiling. In contrast to a sectional door, the up-and-over is not sectionalized at all. Up-and-over doors are very simple and easy to use. Instead of worrying about multiple sections, the door simply raises. This can cause space problems in raising and lowering this type of door. Make sure when it's in operation that there is enough room for the door to clear. Since there are no sections, the door swings out. If a vehicle is parked closely, it could spell imminent damage for both the door and the vehicle.