3 Reasons Why Your Garage Door Won't Open
As great as your garage door is, you're going to be faced with an awful truth. Your garage door is going to break. It happens to everyone. The day your garage door breaks will not be a good day, but it is bound to occur.
Luckily, Overhead Door of the Hill Country happens to specialize in garage door repair. We are very familiar with all of the reasons why your garage door won't open. There have been some amazing days and amazing cases for some days, but there are three very common reasons why your garage door won't open.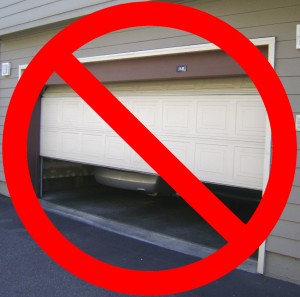 1. The Garage Door Spring is Broken
This is the simple tool that allows the whole thing to work. In order to properly lift your garage door, there has to be a counterbalance. There are multiple ways for a garage door to work, but the two ways that most people utilize involve springs.
The first method, the torsion method, involves placing a spring over the door horizontally. It is connected to the bottom of the garage door and lifts the door up when engaged. Over time, the spring can snap.
The second method, the extension spring method installs springs in the back of the garage door mechanism. When the door is raised, it recoils the spring. When it is lowered, it extends the spring. The extended stress on the spring can also snap it.
While Overhead Door is more than happy to come look at what's going on with your door, it might help to take a look at the garage door springs. Keep an eye on them and make sure those springs are safe and stable.
2. Your Track is Bent
Sometimes, somehow, the track for your garage door can get bent. This can be especially frustrating, as garage door track is a cumbersome material that can be a pain to replace or straighten out. Again, this is something that we have dealt with before. We have the tools and strategies to make sure your track gets straightened or replaced smoothly and painlessly.
In the meantime, regular checkups on the track are never a bad idea. Every month, do a dry test on your garage door and see if there are any hiccups when it raises or lowers. If there are, take care of it immediately. Over time, small hiccups can turn into nasty problems that will affect your lifestyle and your pocketbook.
3. Your Garage Door Motor is Out
Your garage door won't open and you've determined that the spring is fine and the track is fine. Sometimes, the motor for your garage door gives out due to a faulty electrical connection, mechanical malfunction, or something else entirely.
If that's the case, don't worry. Overhead Door of the Hill Country also have that covered as well. If we can't repair your garage door, we can replace the opener for you. We keep a variety of different openers in stock just in case events like this happen.
If your garage door won't open still and your problem doesn't fit into these categories, we can still take care of it. Get in contact with us by phone or visit our contact page. Above all, we want to get your garage door to open again.