Ensuring Safety with a Garage Door Opener
Automatic garage doors make our lives easier in a variety of ways, but they can also pose certain risks if you're not careful about how you operate them. Injuries and property damages can occur with improper usage as your garage door opener controls the largest moving piece of your home. Follow Hill Country Overhead Door's garage door opener safety tips below to learn more about how you can best keep your home and loved ones safe. If you have questions or are in need of garage door opener service or repairs, call us today at 210-547-0359.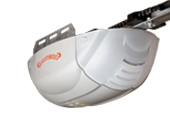 Buy the Proper Opener
Choosing the right garage door opener is a good way to guarantee the highest level of safety. First and foremost, make sure your opener is powerful enough for your door. If your garage door appears to be too heavy, you may need a more forceful opener. Openers come in three basic setups: belt drives, chain drives, and screw drives. The best choice for your home depends on the dimensions of your door and what from material it is made. You can ask a garage door specialist what type is recommended for your home's needs.
Install All Necessary Upgrades
In 1993, the Consumer Product Safety Commission started to require all garage door openers to have an external entrapment protection system, also known as "photoelectric eyes." These are sensors mounted about four to six inches off the floor that automatically reverse the door if it is about to hit anything in its path. If your garage door was installed before 1993, it's probably time for an upgrade. Not only will it work more efficiently, but it will be equipped with the proper safety systems.
If you have an updated system already, don't forget to test out your door's auto-reverse feature on a regular basis (you can place something like a shoebox or wooden block underneath it as a test object). This way, you'll catch any glitches as soon as possible.
Take Special Precautions for Children's Safety
Mount the opener keypad at least 5 feet off the ground, out of reach of small children. Do not let them play with the garage door opener or keypad. When they are old enough to understand how the door works, you can teach them how to use it safely and correctly. Until then, keep the remote somewhere secure where children can't access it.
Watch the Garage Door Carefully
This suggestion may sound obvious, but many home and business owners forget this important precaution. Whenever you open or close the garage door, make sure that you are looking at it the entire time. Sometimes people will walk or drive away as the door is closing and don't see that something is trapped underneath it. If your safety sensors start malfunctioning, you could damage your property or someone could get hurt if they are underneath the door. It may sound excessive, but taking this simple extra step is worth it for your safety.
Learn Emergency Features
There are usually emergency release handles installed in case the opener dies or the power goes out, requiring you to manually operate the door. These have been a standard feature on garage doors since the early 1980s and are typically attached to a short rope that hangs from the door rail located near the top of the garage. Generally speaking, to utilize the emergency release you simply pull on the rope to disconnect the operator system, allowing you to lift the door by hand.
Hire a Garage Door Expert
The Door and Access Systems Manufacturers Association (DASMA) recommends that you have a professional to install and repair your garage door opener. Installing an opener might be easier than installing an entire overhead door, but if it isn't installed properly it can jeopardize the safety of those using it. Your garage door itself should also be inspected by a professional in order to be sure that the door is operating properly, prior to the installation of the opener. Without the door operating properly, the opener with not run smoothly and can cause damage to the door and/or opener.