Behind the Garage Door: 12 Famous Companies that Started in a Garage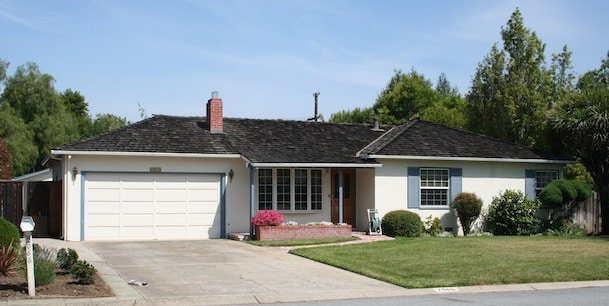 Have you ever wondered what you might be able to get out of your garage that isn't just storing your car and/or holiday decorations? Well, look no further. We're passionate about what we do, because of the great examples of companies or bands who made the most out of their garages. From big corporations like Amazon, Google, and Disney, to massively popular bands like Nirvana, Creedence Clearwater Revival, and The Who, the message is clear. Your garage is what you make of it.
1. Disney
Walt Disney with figurines of the seven dwarves
From the time he was in high school, Walt Disney had a great interest in cartooning. After working on some rudimentary animations, his interest shifted towards becoming an animator and he was given a camera to experiment at home. The very first feature Walt Disney created was during this time, in Kansas City, Missouri. He started with an interpretation of Lewis Carroll's Alice in Wonderland starring a child actress named Virginia Davis. In 1923, as part of a series of "Laugh-O-Grams," Disney created a hybrid live-action and animated short titled Alice's Wonderland that was never shown commercially, but received a great deal of praise from his local supporters in Missouri. Though not particularly well documented, it is believed that much of the work Disney did on editing and animating pieces of this film took place in–you guessed it–a garage.
2. Hewlett-Packard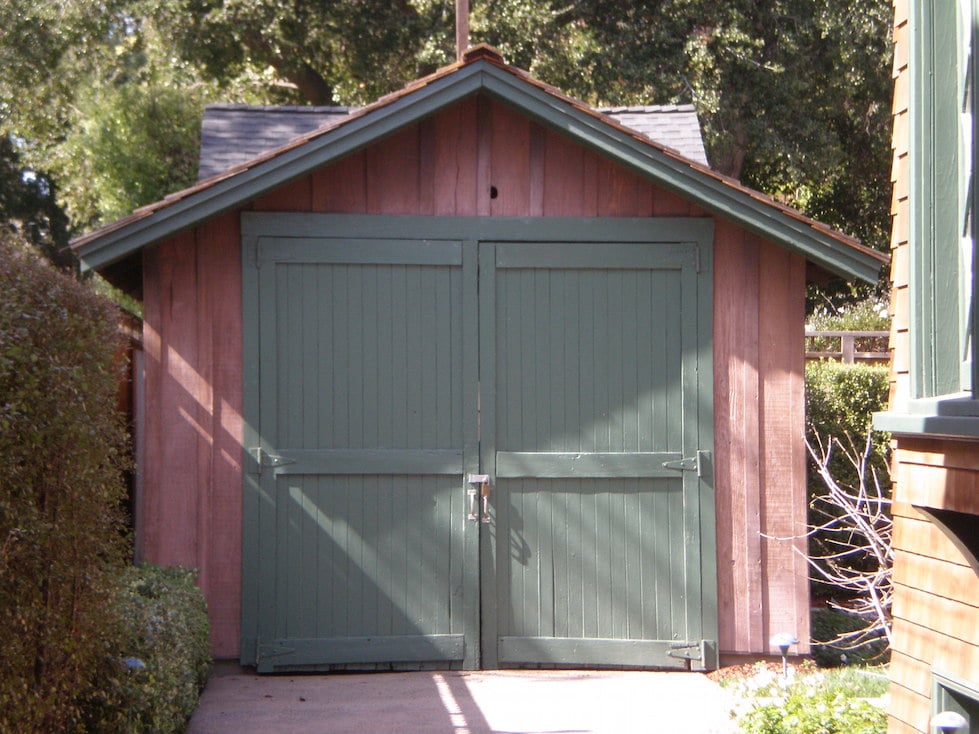 In 1939, Bill Hewlett and Dave Packard decided to start a company focused on building a variety of electrical devices. Now, they are known for the manufacturing of personal computers, software, and computing accessories, but their roots lie in niche technological innovations of all sorts. These included agricultural products, high-tech audio engineering equipment, and other test equipment. They found initial success when they managed to streamline the technology built into an audio oscillator, allowing them to sell it for a fraction of the price of their competitors. It was this price point that allowed fellow self-starter Walt Disney to purchase eight of Hewlett-Packard's Model 200B oscillators for his upcoming musical film, Fantasia. What is perhaps most exciting to us about the founding of Hewlett-Packard is that they built these pieces of equipment in a one-car garage in Palo Alto, CA (pictured to the left). Today, that garage has been named as a historic site, with a plaque marking the spot where HP got its start. The history of HP's humble beginnings is well known and documented, as the company is proud of its origin story.
3. Apple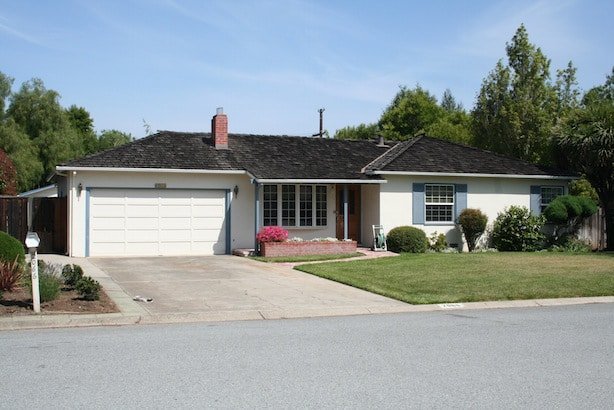 Along with Hewlett-Packard and many other now-giants of the technology industry, Apple Computers began in Silicon Valley, CA. Steve Wozniak was employed at Hewlett-Packard, where he met Steve Jobs, and the two became friends. They worked together on one of Jobs' projects at Atari and ultimately proved to be a successful team. in 1975, Wozniak began developing the Apple I – the baseline for the unprecedented success of the Apple personal computer revolution. To complete his ambitious design, he raised $1,300 and assembled the circuit boards of the computer in Steve Jobs' garage. Though Apple Computer (founded 1976) was never technically operated from a garage (Wozniak says he achieved most of his progress in his cubicle at HP), the house that they used to construct and assemble the parts has since been labeled a historical site in Palo Alto, California (pictured right).
As a sidenote: the 2015 movie Steve Jobs, which explored Jobs' career and personal life, was filmed partially in this very garage, according to Cnet.com.
4. Microsoft

As they say, necessity is the mother of invention. Sometimes, when you have a big idea, the only space available for you to expand it is a garage. This was not a deterrent to Bill Gates and Paul Allen, who hunkered down and founded Microsoft in a garage in Albuquerque, New Mexico. They might not have had much in the way of office space, but they did have a great deal of determination, grit, and raw talent, all of which helped propel the company to the forefront of technological innovation for the greater part of 3 decades. Perhaps their origin story resonated especially deeply with them, as they founded the Microsoft Garage many years later as a project for engineers to explore their own new ideas for technology.
5. Dell
Michael Dell, by flickr user michandryan
Continuing along the theme of now-giant computer corporations, the history of Dell also traces back to humble origins. Michael Dell founded Dell Computer Corporation (operating under the name PC's Limited) in 1984 and began constructing computers from his off-campus dorm housing while still attending the University of Texas at Austin. In fact, he became confident enough in this startup business that he dropped out of school to focus full-time on the venture. At this point, he was running the company out of his garage, building personal computers which started to sell in 1985. This very first year, he grossed more than $73 million.
6. Virgin
Main hall of the Virgin Megastore in Paris, France
Though the Virgin corporation has grown to perhaps one of the largest conglomerates in the world, it also had somewhat of a humble start. Richard Branson, while in high school in Britain, started a student-oriented magazine. The magazine became more popular than he expected and gave him the confidence to engage in a fully-fledged startup business. The first iteration of Virgin Records was a retail service through which Branson would send vinyl albums through the mail (at a cut price) to any customers who placed an order. It is widely believed that this enterprise was mostly sustained through Branson's basement and garage, where he could store materials necessary to keep records of album sales.
7. Amazon
One of Amazon's huge warehouses that provide product for customers worldwide
In 1994, Jeff Bezos, a Princeton graduate, decided to leave his secure, full-time job at a well-established hedge fund when he began to learn about the growing usage of the Internet. This coincided with a landmark Supreme Court decision that altered the way taxes would function for online commerce. Bezos relocated from New York to Bellevue, Washington, where he started the online bookstore in his home garage. This space provided him with the room he needed to facilitate storing, packaging and shipping books to be sent out to his customers.
8. Google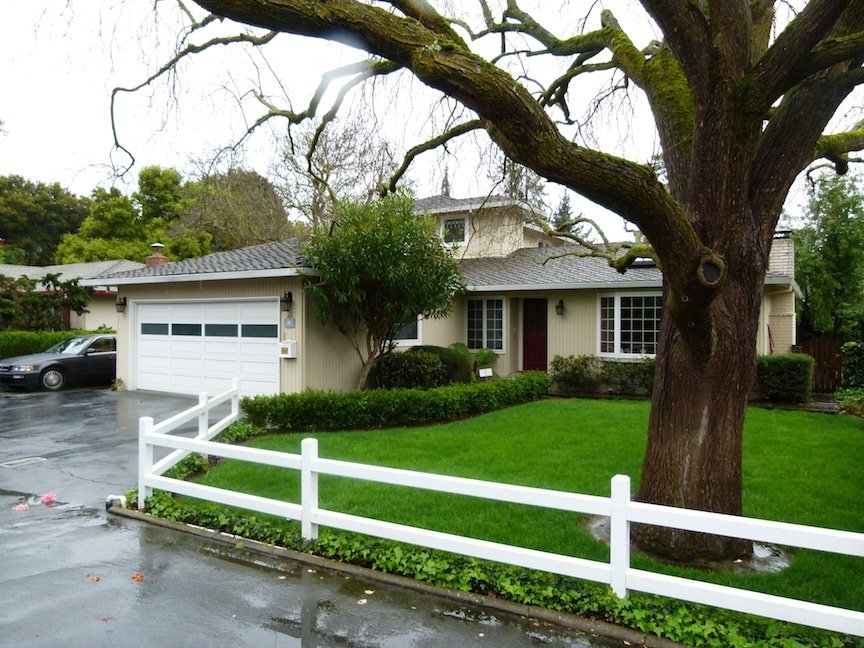 The original garage where Google founders began work
Perhaps one of the most famous and well-recorded tales of garage-to-glory fame is the origin story of Google. In 1998, two Stanford students named Larry Page and Sergey Brin rented a garage in Menlo Park California from their colleague, Susan Wojcicki. This would be the base of operations for Google for the next five months as they developed their algorithms and began indexing websites across the internet. Luckily for Google, they had outgrown the garage within a year, and when they migrated, they brought Susan along. Though she started as their landlord, she eventually became the Vice President of product management. Today, the garage on Santa Margarita Avenue is owned by Google as a tribute to their modest roots.
9. Mattel
Photo by Flickr user Freddycat1
Not every garage startup company revolutionized the world of technology. Some revolutionized their own unique markets. Mattel was one of these unique endeavors and as phenomenal a success as some of the other massive names on this list! In 1945, Elliot Handler and his wife Ruth teamed up with Harold Matson and began constructing picture frames out of their garage workshop. Though this business was somewhat successful, they decided to maximize the use of their materials and began making dollhouse furniture out of the scraps left behind from picture frame construction. Eventually, the doll-sized furniture sales overtook the sales of the picture frames, and the team wisely decided to delve deeper into the toy market. What originally started as a side business had flourished into an incorporated company by 1948. Today, Mattel is best known for their Barbie and Matchbox toys, along with the entire Fisher-Price product line, and even for the board game, Scrabble.
10. MagLite

Now a household name synonymous with durable flashlights, MagLite is also a story of the garage as a space to pursue one's dreams. 1950 saw Tony Maglica, a Croatian immigrant, arriving in Los Angeles. After spending five years working odd jobs, none of which paid very well, he began work as a machinist. This experience compelled him to purchase a metal lathe and began machining parts from his home garage. The parts he created formed a solid foundation for his business, and Maglica eventually opened his own machine shop (Mag Instruments). Around this time, he began manufacturing the flashlights that would make him famous. These durable products (which were standard issue for all American police officers for some time) saw their start in the skilled hands of a machinist who had a dream, and a garage in which to build it.
11. Yankee Candle Company

The story of Yankee Candles is perhaps one of the most heartwarming on this list. As a high school student, Michael Kittredge wanted to create a one-of-a-kind Christmas present for his mother. Using a collection of items he found around the house (most notably, a red crayon for color), he created a scented candle he hoped his mother would be happy to receive. Before he could present her with it, however, a neighboring woman saw Kittredge's creation, and was so impressed, she convinced him to sell it to her. The money she gave him was enough for Michael to buy enough materials to create two additional candles – one for his mother, and another to sell. He operated out of his garage that Christmas season and founded the company properly in a store near the college campus at Mount Holyoke within five years. Yankee Candle Company calls this tale "A True American Success Story," and it's difficult to disagree.
12. Harley-Davidson

It probably comes as no surprise that this now-giant of the motorcycle industry started in a garage. But their start wasn't in a garage as we think of "garages" today. It's somewhat difficult to actually imagine William S. Harley and Arthur Davidson constructing their first prototype in a cramped wooden shed in 1901. It might be even more difficult to imagine that this prototype was a small motor for a bicycle instead of a proper motorcycle. It didn't take long for Harley and Davidson to expand into this market, however. They officially founded their company by 1903 and have since solidified their names as producers of high-quality, high-octane American motorbikes.
We hope you've enjoyed this look into some businesses that got the most out of their garages. The garage is usually the first part of your home visible to guests, passersby, and to you, too! That's why we wanted to build up a little appreciation for this often overlooked section of your home. If you're hoping to give your garage a facelift, add some curb appeal to your home, or repair a faulty door to get the most use out of your garage, give us a call at Hill Country Overhead Door!